Reading about "rage" broadheads from other bowhunters is very disturbing not only only the savagery of this arrow but the inconsistency of the results and how the animals are nothing more then objects to "slice and dice". I hear how it does not "pass thru" because it hits a bone, break a rib, it "snaps off" some says it leaves such a large hole that even if the deer did not bleed to death they died from the guts coming out. The video is very graphic and is of a doe being hit by a rage and she is bawling and crying as the bowhunters continue to laugh and video tape. Below are some of bowhunters comments on "rage" broadheads that I found on their forum notice there is not one single concern for the animal suffering instead their concern is finding the deer especially if it's a trophy deer
"Shot a doe tonight with a 2 blade rage at 25 yards quatering away. She ran maybe 15 yards before crashing. It was not a pass threw, but it did its job. I think it broke 5 or 6 ribs on the way in. "darrink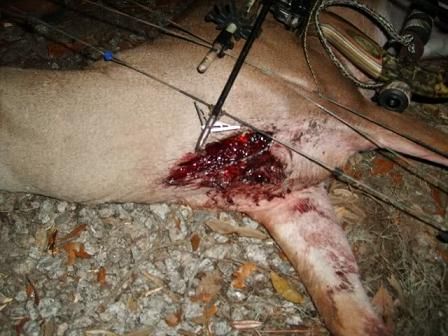 "Broke a few ribs also. I hope the picture is clear. " Darrenbow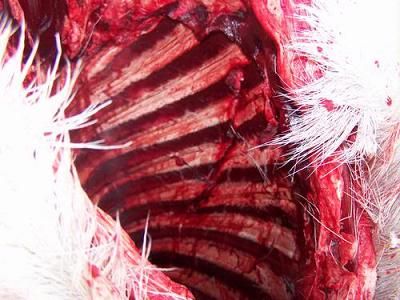 "I switched to the Rage 3-blades in 2007. I have shot 4 deer with them now and haven't lost one yet.(knock on wood). I have gotten some amazing blood trails using these broadheads however if you hit a solid bone like the shoulder or high on the rib cage I don't think you would get very good penetration. But then again if you are not shooting 85 pounds what broadhead will? This is the entry wound of the buck I shot this year. It went in high in the back and did not get a pass-through but the deer went 30 yrds. and fell over! " stillfishin
http://i482.photobucket.com/albums/rr183/dannyReingold5/BowSeason2006001.jpg
"Tryed out these wicked 2-blades tonight on a doe. All I can say is Wow what a hole. I cut 2 ribs going in and 1 out. Pretty quartering shot. She went 60yds. I had great blood out both sides. Very happy with them so far." Deer-n-Beer
http://i482.photobucket.com/albums/rr183/dannyReingold5/100_1703_12092008081850.jpg
"I shot through the leg leg/shoulder bone low on the 9 pt I shot last year. I was amazed that there was no curling of the tip. Head looked none the worse for wear. Didn't penetrate as very far, but wasn't because the tip bent. All 3 blades were intact, also." brdhntr
http://i482.photobucket.com/albums/rr183/dannyReingold5/deercamjpeg161_110707150733.jpg
"The doe I shot with the Rage 2 blade was quartered away at 20 yards. Arrow (Maxima 350, 28.5", 62 lb bow) broke two ribs on entrance (4.5" entrance hole), went through the lungs, broke one rib in the front of the chest cavity, then broke the off side front leg joint. The arrow never actually came out of the deer, but there was plenty of blood from just the entrance hole." ACK
"Thanks, Give the 3 blades a try and you should see a big difference. 3 blades = more slicing and dicing! I didn't get a pass through on a quartering 200 pound deer week before last, I actually hit him in the liver behind the ribs. The broadhead was found stuck in the off shoulder. I saw him go down just over 120 yards, but the blood that came out his nose left a great trail. Thanks again for taking up our great sport of bow hunting! Keep up the good work!!" pasinthrough
9 months ago
http://i482.photobucket.com/albums/rr183/dannyReingold5/IMG00130.jpg
"USED THE RAGE BROADHEADS A COUPLE TIMES THIS YEAR AND HAD BAD RESULTS. I SHOOT A JENNINGS BOW SET AT 70LBS AND HAD NO PASS THRUS. LOST BOTH DEER, SO I TRIED THE MAGNUS STINGER AND TOOK 2 DOES NO PROBLEM. COMPLETE PASS THRU EVEN ON THE ONE I SHOT THRU THE LEG AND HEART. NOT A GREAT AMOUNT OF BLOOD WITH THESE BLADES BUT CONSISTANT AND ALSO SHOT PLACEMENT IS A FACTOR. ALSO THEY SHOOT STRAIGHT AND ONLY COST ABOUT $24.00 INSTED OF ALMOST $40.00" MITHUNTER
"Wondering if anyone has used these out west. Switched to them this year. Did a number on my buck, but at 20yds didn't get complete pass thru. I did hit ribs, but worried about taking them out west and what they'll do at 50+yds. thanks" FNB
"I switched to rage broadheads mid season last year and was not able to use them. I shot a doe last week with the 1.5" three blade rage broadheads. The shot caught the liver and part of the stomach. The deer went less than 100 yards and when I got to it the stomach was sticking out the entry hole the size of a volleyball. I found it less than 30 minutes after the shot (it had nothing to do with being dead and bloated). I'm hooked!
I've heard of guys who hit no vital organs and the deer went about 75 yards and died because the hole is just too big. I don't think the broadhead itself can fail, other than the blades opening in your quiver. I also shot a grouse with one and took sliced its head right off." walleyeguy_12
"I've heard of too many people shooting deer and not finding them with the rage due to shoulder hits or lack of blood when it doesn't pass through the deer. my buddy shot a little doe about a month ago with about 4 inches of fresh snow on the ground. He had a horrible shot on her, right in front of the arse. The arrow went in not even half way and fell out 30 yards away. She ran a total of about 40 yards. No blood at all. " Czabs
"I switched to the Rage 3-blades in 2007. I have shot 4 deer with them now and haven't lost one yet.(knock on wood). I have gotten some amazing blood trails using these broadheads however if you hit a solid bone like the shoulder or high on the rib cage I don't think you would get very good penetration. But then again if you are not shooting 85 pounds what broadhead will? This is the entry wound of the buck I shot this year. It went in high in the back and did not get a pass-through but the deer went 30 yrds. and fell over! " ucool
"... I broke 6 ribs. 3 on the way in and 3 on the other side. All that rib breaking prevented the tip from poking through the other side." Heavy Arrow
"Rage broad heads are horrible, my friends and I shot 6 deer with them and only recovered 1 TG it was the big buck but even he ran 200 yrds and we shot him 2x. As for arrow and and draw..I use a PSE stinger mod. to 78 lbs draw 386 arrows and 100g rage 2 blades, shot my deer at 15 yrd through the lung..no recovery..but they did give use our money back so they stand by their word.." XTERRAROC
8 months ago
"No, you did make it through to the other side, you hit the shoulder and when the doe took off the arrow popped back out, I have a video of a small doe that did the same thing.
Hey don't like them , don't shoot them??" bowhunterjohn63
" Rage Broadheads?
I shot a nine point on october 4 of this year. I hit it low in the front shoulder and didn't get any vitals. I watched the buck run for about 400 yards then enter a corn field. i waited about 2 hours and went to find it. It ran a total of a mile and a half befor i found it dead in a ditch. The entry hole was so big i could fit my whole hand in it. If i hadn't been using rage broadhead 2 blade i would have never found it." csmigill
"The doe I shot had complete pass through without a problem. Depending on how the broadhead enters, the blade could be against the ribs or with them. This may make the difference of a pass through or not. Don't know for sure. Arrow through or not as long as you recover the deer is what matters.. " cosmic
""I shot a nice 8ptr last night at 27 yds with a 2 blade rage. Hit him about 3-4 in above the picture below. I think I hit the ball at the top of the shoulder. Arrow went in 7 in and as he ran off he snapped the broadhead and insert off and I assume it's still in him. I was 20 ft up in a tree. Found drop of blood every 5-6 ft for 60yds and that's it with 3 small pools where he probably stopped." ptrsligt
Not only are they inconsistant as far as bowhunters "good shot" with "rage" broad heads but it's expensive so when you hear the excuse of 'with the economy it's cheaper to hunt.." you know they are full of crock. Also can you imagine this barbaric weapon accidentally hitting a young child , your pet or eve an adult ? I don't think you stand a chance.
PLEASE SIGN THESE IMPORTANT BOWHUNTING PETITIONS
Please sign these petitions. Thank you!
http://www.change.org/petitions/view/stop_the_bow_hunt_in_hudson_oh
http://www.thepetitionsite.com/1/STOPhuntingNOW/
http://www.thepetitionsite.com/1/abolish-bowhunting-and-end-the-brutality/
...
http://www.thepetitionsite.com/1/stop-the-officially-sanctioned-inhumane-slaughter-of-deer-in-fairfax-county/
http://www.thepetitionsite.com/1/demand-youtube-to-stop-the-snuff-and-hunting-videos/